Created by the California Legislature, SOMAH's goal is to reduce greenhouse gas emissions
History
Assembly Bill (AB) 693 (Eggman), Stats. 2015, Chapter 582, created the Multifamily Affordable Housing Solar Roofs Program, funded at up to $100 million annually from the investor-owned utilities' share of greenhouse gas (GHG) auction proceeds.
Senate Bill 92, adopted with the 2017-2018 State Budget, further clarified the budget for the program. Decision 17-12-022 (December 14, 2017) implemented AB 693 and changed the name of the program to the Solar on Multifamily Affordable Housing (SOMAH) Program to distinguish it from other states' clean energy and low-income solar programs. Decision 17-12-022 established the program's budget, incentive structure and eligibility policies, among other items.
The SOMAH Program builds on California's successful Multifamily Affordable Solar Housing program, which helped install over 57 megawatts (MW) of solar PV during 2009-21. SOMAH is jointly administered by the Association for Energy Affordability, Center for Sustainable Energy and GRID Alternatives in collaboration with California Housing Partnership. The program is overseen by the California Public Utilities Commission.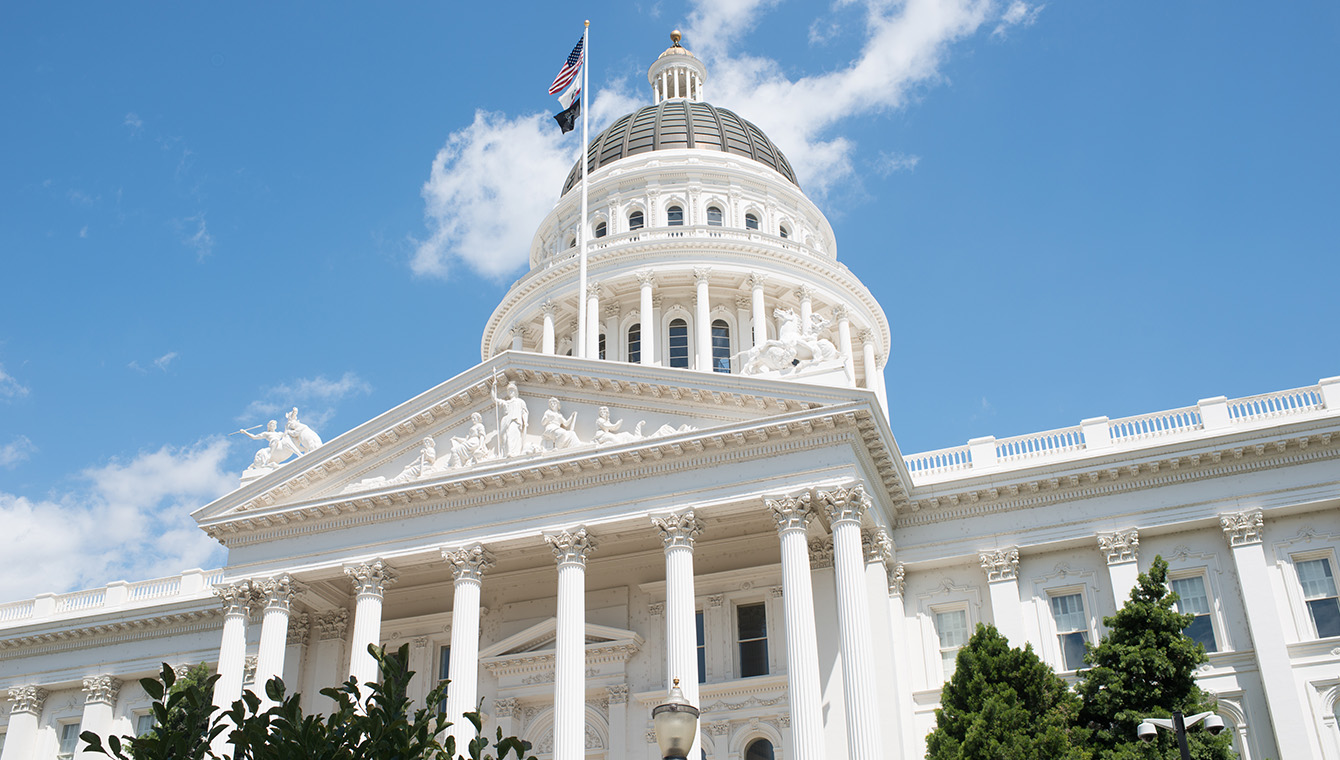 ---
Collections and Funding Status
The SOMAH Program serves utility and community choice aggregator customers in the territories of Pacific Gas and Electric Company, Southern California Edison Company, San Diego Gas & Electric Company, Liberty Utilities Company and PacifiCorp.
Funded through greenhouse gas allowance auction proceeds, SOMAH has a program budget of up to $100 million annually and an overall target to install 300 MW of generating capacity by 2030.
Annual collections were authorized starting June 2016 and continue through May 2026 from the California Climate Investments initiative. Funds originate from Cap-and-Trade Program auction proceeds deposited in the Greenhouse Gas Reduction Fund and used to further the state's objectives to decarbonize and curb climate change.
Funds for each utility territory are released at different times. Collections for each funding cycle are expected to be available between December and February for SDG&E and SCE, between March and May for Liberty and quarterly for PG&E and PacifiCorp. Collections are based on each utility's Energy Resource Recovery Account (ERRA) or Energy Cost Adjustment Clause (ECAC). For budget information and current available funding, visit California Distributed Generation Statistics.
---
Collections and Funding Records
Total Collections
| IOU | 2016 | 2017 | 2018 | 2019 | True-Up | 2020 | 2021 | 2022 | 2023 | TOTAL per IOU |
| --- | --- | --- | --- | --- | --- | --- | --- | --- | --- | --- |
| PG&E | $1,934,435 | $4,843,456 | $43,700,000 | $37,737,000 | $35,133,983 | $38,776,228 | $31,609,200 | $46,222,340 | $32,727,352 | $272,683,994 |
| SCE | $3,036,945 | $5,040,278 | $39,125,783 | $40,853,635 | $50,602,879 | $41,876,767 | $44,676,000 | $73,364,000 | $46,527,856 | $345,104,143 |
| SDG&E | $ - | $ - | $10,300,000 | $10,115,640 | $12,604,205 | $11,438,841 | $10,923,507 | $19,231,326 | $14,949,939 | $89,563,458 |
| Pacific Corp | $469,381 | $1,068,101 | $1,121,680 | $1,278,364 | $ - | $1,308,215 | $1,211,480 | $1,556,246 | $786,040 | $8,799,507 |
| Liberty | $147,156 | $287,032 | $349,673 | $466,130 | $ - | $362,585 | $333,475 | $446,231 | $ - | $2,392,282 |
| Annual Totals | $5,587,917 | $11,238,867 | $94,597,136 | $90,450,769 | $98,341,067 | $93,762,637 | $88,753,662 | $140,820,143 | $94,991,187 | $708,604,038 |
| Admin | $558,792 | $1,123,887 | $9,459,714 | $9,045,077 | $9,834,107 | $9,376,264 | $8,875,366 | $14,082,014 | $9,499,119 | $70,860,404 |
Incentive Budgets (90% of Total Collections)
| IOU | 2016 | 2017 | 2018 | 2019 | True-Up | 2020 | 2021 | 2022 | 2023 | TOTAL per IOU |
| --- | --- | --- | --- | --- | --- | --- | --- | --- | --- | --- |
| PG&E | $1,740,992 | $4,359,110 | $39,330,000 | $33,963,300 | $31,620,584 | $34,898,605 | $28,448,280 | $41,600,106 | $29,454,617 | $236,470,183 |
| SCE | $2,733,251 | $4,536,250 | $35,213,205 | $36,768,272 | $45,542,591 | $37,689,090 | $40,208,400 | $66,027,600 | $41,875,070 | $310,593,729 |
| SDG&E | $ - | $ - | $9,270,000 | $9,104,076 | $11,343,785 | $10,294,957 | $9,831,156 | $17,308,193 | $13,454,945 | $80,607,112 |
| PacifiCorp | $422,443 | $961,291 | $1,009,512 | $1,150,528 | $ - | $1,177,394 | $1,090,332 | $1,400,621 | $707,436 | $7,919,557 |
| Liberty | $132,440 | $258,329 | $314,706 | $419,517 | $ - | $326,327 | $300,128 | $401,608 | $ - | $2,153,055 |
| Annual Totals | $5,029,126 | $10,114,980 | $85,137,423 | $81,405,693 | $88,506,960 | $84,386,373 | $79,878,296 | $126,738,128 | $85,492,068 | $637,743,636 |
Liberty Utilities Company Collections
*Liberty Q1 - Q2 2020 funding was based on quarterly GHG revenue forecasted funds
**Liberty Q3 - Q4 2020 Set-Aside will be based on the GHG revenue forecasted funds and are expected to be released in Q2 2021.
***Liberty 2021 Set-Aside will be based on the GHG revenue forecasted funds and are expected to be released in Q2 2021.

Decision

Set-Aside or True-Up

Actual Set-Aside

Calendar Year ECAC Forecast

Actual Set-Aside per Calendar Year

D.20-05-044

2016 Set-Aside

$147,156

2016

$147,156

D.20-05-044

2017 Set-Aside

$287,032

2017

$287,032

D.20-05-044

2018 Set-Aside

$349,673

2018

$349,673

D.20-05-044

2019 Set-Aside

$466,130

2019

$466,130

D.20-05-044

2016-2019 True-Up

$ -

Under Collections True-Up 2016-19

$ -

D.20-05-044

D.20-05-045

Q1-Q2 2020 Set-Aside*

Q3-Q4 2020 Set-Aside**

$164,842

$197,743

2020

$362,585

D.21-05-005

2021 Set-Aside***

$333,475

2021

$333,475

D.22-09-013
2022 Set-Aside
$446,231
2022
$446,231
2023 Set-Aside
2023

Total Liberty Utilities Company Collections

$2,392,282
PacifiCorp Company Collections
*PacifiCorp Q1 - Q2 2020 funding was based on quarterly GHG revenue actuals.
**PacifiCorp Q3 - Q4 2020 funding will be based on quarterly GHG revenue actuals and is expected to be released in Q2 2021.
***PacifiCorp 2021 Set-Aside will be based on the GHG revenue forecasted funds and will be released quarterly.

Set-Aside or True-Up

Actual Set-Aside

Calendar Year ECAC Forecast

Actual Set-Aside per Calendar Year

D.20-05-011

2016 Set-Aside

$469,381

2016

$469,381

D.20-05-011

2017 Set-Aside

$1,068,101

2017

$1,068,101

D.20-05-011

2018 Set-Aside

$1,121,680

2018

$1,121,680

D.20-05-011

2019 Set-Aside

$1,278,364

2019

$1,278,364

D.20-05-011

2016-2019 True-Up

$ -

Under Collections True-Up 2016-19

$ -

D.20-05-011

D.21-03-007

Q1 2021 Set-Aside*

Q3-Q4 2020 Set-Aside**

$607,264

$700,951

2020

$1,308,215

D.21-03-007

D.21-03-007

D.21-03-007

D.21-03-007

Q1 2021 Set-Aside***

Q2 2021 Set-Aside

Q3 2021 Set-Aside

Q4 2021 Set-Aside

$244,604

$258,346

$320,184

$388,346

2021

$1,211,480

D.22-03-014

D.22-03-014

D.22-03-014

D.22-03-014

Q1 2022 Set-Aside

Q2 2022 Set-Aside

Q3 2022 Set-Aside

Q4 2022 Set-Aside

$398,584

$421,902

$369,249

$366,511

2022
$1,556,246
D.23-03-008

Q1 2023 Set-Aside

Q2 2023 Set-Aside

Q3 2023 Set-Aside

Q4 2023 Set-Aside

$376,267

$409,773

$ -

$ -

2023
$786,040

Total PacifiCorp Company Collections

$8,799,507
Pacific Gas & Electric Collections
*PG&E Q1 - Q2 2020 funding was based on quarterly GHG revenue actuals.
**PG&E Q3 - Q4 funding will be based on the GHG revenue forecasted funds and will be released in Q1 2021.
***PG&E 2021 Set-Aside will be based on the GHG revenue forecasted funds and will be released quarterly.

CPUC Decision Number

Set-Aside or True-Up

Actual Set-Aside

Calendar Year ERRA Forecast

Actual Set-Aside per Calendar Year

D.20-02-047

2016 Set-Aside

$1,934,435

2016

$1,934,435

D.20-02-047

2017 Set-Aside

$4,843,456

2017

$4,843,456

D.20-02-047

2018 Set-Aside

$43,700,000

2018

$43,700,000

D.20-02-047

2019 Set-Aside

$37,737,000

2019

$37,737,000

D.20-02-047

2016-2019 True-Up

$30,685,041

Under Collections True-Up

$30,685,041

D.20-02-047

D.20-02-047

D.20-12-038

Q1 2021 Set-Aside*

Q3-Q4 2020 Set-Aside**

Q1 2021 Set-Aside***

$10,117,261

$7,795,632

$20,863,335

2020

$38,776,228

D.20-12-038

Q2 2021 Set-Aside

$4,448,942

Under Collections True-Up

$4,448,942

D.20-12-038

D.20-12-038

D.20-12-038

D.20-12-038

Q3 2021 Set-Aside

Q4 2021 Set-Aside

2016-2019 True-Up

Q1 2021 Set-Aside*

$7,902,300

$7,902,300

$7,902,300

$7,902,300

2021

$31,609,199

D.22-02-002

D.22-02-002

D.22-02-002

D.22-02-002

D.22-02-002

2020 True-Up

Q1 2022 Set-Aside***

Q2 2022 Set-Aside

Q3 2022 Set-Aside

Q4 2022 Set-Aside

$ (186,832)

$11,602,293

$11,602,293

$11,602,293

$11,602,293

2022
$46,222,340

D.22-12-044

D.22-12-044

D.22-12-044

D.22-12-044

Q1 2023 Set-Aside

Q2 2023 Set-Aside

Q3 2023 Set-Aside

Q4 2023 Set-Aside

$9,939,345

$9,939,345

$9,939,345

$ -

2023
$32,727,352

Total PG&E Collections

$272,683,994
San Diego Gas & Electric Collections
*SDG&E Q1 - Q2 2020 funding was based on quarterly GHG revenue forecasted funds.
**SDG&E Q3 - Q4 2020 Set-Aside will be based on the GHG revenue forecasted funds and will be released in Q1 2021.
***SDG&E 2021 Set-Aside will be based on the GHG revenue forecasted funds and will be released in Q1 2021.

Set-Aside or True-Up

Actual Set-Aside

Calendar Year ERRA Forecast

Actual Set-Aside per Calendar Year

D.20-01-005

2016 Set-Aside

$ -

2016

$ -

D.20-01-005

2017 Set-Aside

$ -

2017

$ -

D.20-01-005

2018 Set-Aside

$10,300,000

2018

$10,300,000

D.20-01-005

2019 Set-Aside

$10,115,640

2019

$10,115,640

D.20-01-005

2016-2019 True-Up

$12,604,205

Under Collections True-Up 2016-19

$12,604,205

D.20-01-005

D.21-01-017

Q1-Q2 2020 Set-Aside*

Q3-Q4 2020 Set-Aside**

$5,618,639

$5,820,202

2020

$11,438,841

D.21-01-017

D.21-01-017

D.21-01-017

Q4 2019 True-Up

Q1-Q2 2020 True-Up

2021 Set-Aside***

$100,486

$ (760,623)

$11,583,644

2021

$10,923,507

D.21-12-040

D.21-12-040

2020 True-Up

2022 Set-Aside

$ (209,026)

$19,440,352

2022
$19,231,326

D.22-12-042

D.22-12-042

2021 True-Up

2023 Set-Aside

$2,933,967

$12,015,972

2023
$19,949,939

Total SDG&E Collections

$89,563,458
Southern California Edison Collections
*SCE Q1 – Q2 2020 funding was based on quarterly GHG revenue forecasted funds.
**SCE Q3 – Q4 2020 Set-Aside will be based on the GHG revenue forecasted funds and will be released in Q1 2021.
***SCE 2021 Set-Aside will be based on the GHG revenue forecasted funds and will be released in Q1 2021.

Set-Aside or True-Up

Actual Set-Aside

Calendar Year ERRA Forecast

Actual Set-Aside per Calendar Year

D.20-01-022

2016 Set-Aside

$3,036,945

2016

$3,036,945

D.20-01-022

2017 Set-Aside

$5,040,278

2017

$5,040,278

D.20-01-022

2018 Set-Aside

$39,125,783

2018

$39,125,783

D.20-01-022

2019 Set-Aside

$40,853,635

2019

$40,853,635

D.20-01-022

2016-2019 True-Up

$50,602,879

Under Collections True-Up

$50,602,879

D.20-01-022

D.21-01-035

Q1-Q2 2020 Set-Aside*

Q3-Q4 2020 Set-Aside**

$22,678,767

$19,198,000

2020

$41,876,767

D.21-01-035

2021 Set-Aside***

$44,676,000

2021

$44,676,000

D.22-01-003

D.22-01-003

2021 True-Up

2022 Set-Aside

$8,291,000

$65,073,000

2022
$73,364,000

D.22-12-012

2023 Set-Aside
$46,527,856
2023
$46,527,856

Total SCE Collections

$345,104,143
Program Status by Utility
| Utility | Status | Funding last released |
| --- | --- | --- |
| Liberty Utilities | | November 2022 |
| PacifiCorp | | July 2023 |
| PG&E | | August 2023 |
| SCE | | July 2023 |
| SDG&E | | July 2023 |